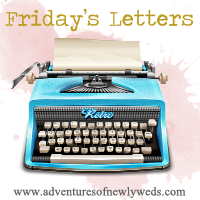 Dear Friday, I am so happy you are here. I felt like it was taking f.o.r.e.v.e.r. Please don't take so long getting here next time.
Dear Courtney, I am so glad you are here with me. It is going to be a long drive but I know we will have fun! Mackenzie is glad her bestie, Rylan, is sharing tomorrow with her. And I love the posters and pom poms you guys made. Go Wildcats!
Dear Hair, can't you just give me an extra week before you start showing your ugly roots? I mean really?! I just put color on and it looks like it's already been 5 weeks.
Dear School, I am ready not to see you until August. I know you are very beneficial but I need a break. It's not you...it's me. :)
Dear Sophie, Abby is just visiting us until Monday. Please stop being depressed and jealous. It will be okay...promise.
Dear kids, could you please just listen to me? I know you think you know everything...and that I am just a big dumb mommy...but I promise I am just trying to help you. Also, if you could not make me have to repeat myself a 100 times - that would be awesome!
Have a great Friday and Weekend!